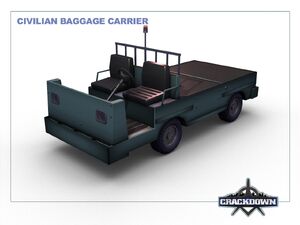 The Baggage Carrier is a small vehicle in Crackdown. The Baggage Carrier reaches a speed of 51 mph at full speed. When dark the orange flashing light on the top activates. Its purpose is possibly to transport boxes around the city.
Locations
Edit
It can be found at The Volks' Leader's place, Exetron Oil Rig and sometimes Insight Counter Services, a counter service located in The Corridor.
Ad blocker interference detected!
Wikia is a free-to-use site that makes money from advertising. We have a modified experience for viewers using ad blockers

Wikia is not accessible if you've made further modifications. Remove the custom ad blocker rule(s) and the page will load as expected.