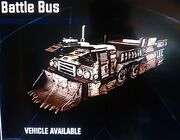 Characteristics
Edit

The Battle bus is a Volk SCUD Launcher from Crackdown that has been converted by Cell to make an offensive, slow moving tank. It has been coated with metal plating for protection and has a front-end loader scoop welded to the front to plow through freaks and agency defenses. There are 2 variants of the Battle bus with one version having 3 mounted Turret machine guns (this variant cannot be stored) and a variant without armament but still with plenty of platform space on the top. While it may be durable, its slow top speed (99 groundspeed), poor acceleration, and poor maneuverability render it something of a sitting duck when attacking Cell Tactical Locations, especially at night. This is the vehicle needed for the Party Bus achievement, which has 4 Agents to jump through a Stunt Ring in a Battle Bus.
These are found in very few places in Pacific City, but there is one right in the beginning of the game, to the left of your first Stronghold. The Battle bus will be there only as long the Stronghold stands. There is only one more bus in the game, in Unity Heights, but it can't be stored, because it has 3 maching guns, and vehicles with weapons cannot be stored.
Ad blocker interference detected!
Wikia is a free-to-use site that makes money from advertising. We have a modified experience for viewers using ad blockers

Wikia is not accessible if you've made further modifications. Remove the custom ad blocker rule(s) and the page will load as expected.