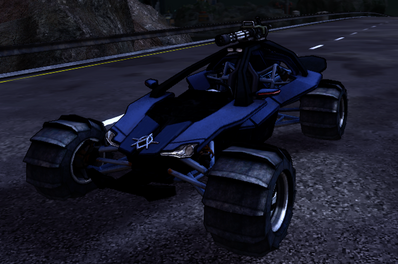 The Agency Buggy is a vehicle in Crackdown 2 given as a reward for reaching level 2 in the driving skill.
Its minigun can kill enemies and freaks very quickly. If you kill 20 enemies within 10 seconds with it you will get the 'Scarface' achievement. Another achievement associated with the Buggy is 'Victory Roll', where you must go upside down and then kill an enemy in mid-air with the minigun. The Buggy is very fast , but can knock over with ease. Also, the Buggy is not very durable. Peacekeepers also use this vehicle but less than the Cruiser, although due to a glitch, they are continuously firing the minigun while doing so.
Ad blocker interference detected!
Wikia is a free-to-use site that makes money from advertising. We have a modified experience for viewers using ad blockers

Wikia is not accessible if you've made further modifications. Remove the custom ad blocker rule(s) and the page will load as expected.