Cluster Grenade
Talk

0
244pages on
this wiki
"Those Peacekeepers need assistance, agent!"
This article needs more information. Please expand this article.
The Cluster Grenade is a type of explosive, hand-held ordnance.
Crackdown
Edit
It is only found in the Shai-Gen District, While its blast radius and power are comparable to other grenades, it is set apart by the fact that when it detonates, a cache of grenades disperse, exploding on contact with the ground or other solid surface. This is one of the more potent explosives in the game. It is also considered the best out of most of the grenade types, and is extremely effective for an agent with maxed out explosives. This Grenade is one of the best for when trying to finish 'Keys To The City' as it is capable of rapidly dispatching large groups of gang members.
Crackdown 2
Edit
The cluster grenade functions much like its counterpart in the first game, and causes one grenade to split into roughly 8 submunitions. On its own it is capable of causing mass damage over a wide area. When Explosive Skills are maxed out, its power arguably surpasses that of the Quacker, due to its area of effect. Eight can be carried.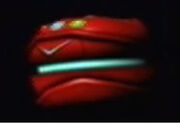 The spread of this weapon is diminished in close quarters combat.
Note: When collatoral damage is of no concern, try pairing this with the grenade launcher for maximum area damage.