Pistols, SMGs, Shotguns, Assault Rifles, Machine Guns, Sniper Rifles, Heavy, Equipment,

Getting Busy, Free For All, The Toy Box, Deluge



Crackdown and its sequels are third-person shooter video games played in an open-world. The player's character is a super-human Agent created by the Agency, an international police organization based in Pacific City.
In Crackdown, the player must rid Pacific city of three criminal gangs, Los Muertos, Volk, and Shai-Gen, each claiming a different district of the city: La Mugre, the Den, and the Corridor. (Learn more...)
In Crackdown 2, ten years have passed since the Agency overthrew Pacific City's gangs. New threats have arisen to disrupt the peace, however. A virus has spread across the city, transforming all who come into contact with it into monstrous Freaks. There is also the Cell, a terrorist organization made up of dissidents, radicals, and criminals who want to topple the Agency. The player must break the Cell and purge the Freaks to restore the Agency's order to Pacific City. (Learn more...)
Crackdown 3 is the presumed title of the upcoming Crackdown game announced by Microsoft at E3 2014. Microsoft describes it as "a new iteration of the groundbreaking open-world action series that features a whole new campaign — fully playable in co-op — and uses Xbox Live to power a city that isn't just an exciting place to play, but is a part of your destructive arsenal."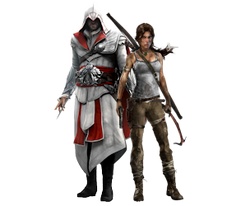 Action-Adventure Games
Go to these sites for info or for help with your own wiki!
ARK: Survival Evolved • Assassin's Creed • Bayonetta • The Binding of Isaac • Castlevania • Crackdown • Darksiders • Days Gone • Detroit: Become Human • Devil May Cry • Dragon's Crown • Fran Bow • God Eater • Grand Theft Auto • Gravity Rush • HITMAN • Horizon Zero Dawn • InFAMOUS • Just Cause • King's Quest • L.A. Noire • Last Day on Earth: Survival • The Last of Us • Legacy of Kain • Legend of Zelda • LEGO Dimensions • LEGO Games • LEGO Marvel and DC • Lightseekers • The Longest Journey • Mafia • Marvel's Spider-Man • Metal Gear • Monkey Island • Monster Hunter • Ninja Gaiden • No More Heroes • Ōkami • Prince of Persia • Red Dead • Senran Kagura • Sleeping Dogs • Splinter Cell • Subnautica • System Shock • Tomb Raider • Uncharted • Watch Dogs • Yakuza
Want your community included? See how!
See all of our Action-Adventure gaming wikis!

The Agents are super-human beings created by the Agency using the disgraced work of Dr. Balthazar Czernenko. As each Agent fights, its abilities evolve; for example, a new Agent can jump slightly higher than the average human, but an Agent with maxed out Agility can leap over buildings. The Agents have access to the Agency's best equipment to fight against crime in Pacific City. Learn more...


What's new on Crackdown Wiki