"This is a mess, agent!"
This article is in need of some cleanup. Look into spelling and grammar.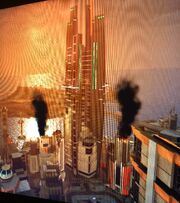 Hope Tower is built on what was once the skyscraper controlled by the Shai-Gen general, Colonel Axton Cowell, and is one of the main tactical locations controlled by Cell. It is also the most difficult tactical location to be captured.  This is because not only the amount of Cell soldiers needed to eliminate in order to queue the Helicopter dropsquads, but also the necessity to scale the tower to reach the soldiers required to eliminate. Hope Tower is located across from The Tower in Unity Heights' main square. Once it has been captured by the Agency weaponless helicopters will be spawned in the middle of Hope Tower.  Hope Tower is initially the tallest building in Pacific City at the start of the game. However, once all Sunburst Beacons are activated, the Agency Tower reclaims its title as the tallest building in Pacific City, with Hope Tower taking second place.
Hope Tower seems to share some similarities with the Agency Tower. For example, the multiple-peaks on the roof, the middle level rotunda, and the overall architecture and building materials. This suggests that Hope Tower may have been built by The Agency.
An independant estimate to the height of the tower places its height at around 500 metres tall.
Ad blocker interference detected!
Wikia is a free-to-use site that makes money from advertising. We have a modified experience for viewers using ad blockers

Wikia is not accessible if you've made further modifications. Remove the custom ad blocker rule(s) and the page will load as expected.