Hope Tower
Talk

0
244pages on
this wiki
"This is a mess, agent!"
This article is in need of some cleanup. Look into spelling and grammar.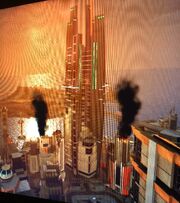 Hope Tower is built on what was once the skyscraper controlled by the Shai-Gen general, Colonel Axton Cowell, and is one of the main tactical locations controlled by Cell. It is also the final tactical location in Crackdown 2 (if players capture the other locations first). Hope Tower is located across from The Tower in Unity Heights' main square. The player can also find Helicopters at Hope Tower once it has been captured for the Agency. Hope Tower is initially the tallest building in Pacific City at the start of the game. However, once all Sunburst Beacons are activated, the Agency Tower reclaims its title as the tallest building in Pacific City, with Hope Tower taking second place.
Hope Tower seems to share some similarities with the Agency Tower. For example, the multiple-peaks on the roof, the middle level rotunda, and the overall architecture and building materials. This suggests that Hope Tower may have been built by The Agency.
An independant estimate to the height of the tower places its height at around 500 metres tall.