Mrs. Timbol is the H.R. Director for the killers. She is located at Human Reality Incorporated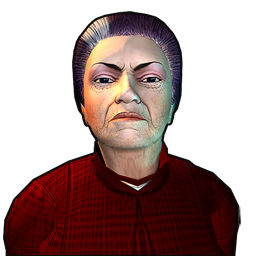 Mrs. Timbol's primary role is ruling Shai Gen's Human Resources department, supervising the training of new recruits for the corporation's radical Security Force.
Her intense indoctrination program is ruthlessly efficient. Those who fail provide target practice for those who succeed.
Mrs. Timbol is the Devil made flesh. This... woman has no heart or soul but revels in stealing both via Shai-Gen's Acquisitions department: a covert group that kidnaps innocent civilians for use in sadistic training exercises and research.
After Death
Edit
Mrs. Timbol's demise has killed Shai-Gen's prolific training and abduction programs. The effects are spreading fast. New recruits are less effective and the Corridor is now safer for civilians at nighttime.
Ad blocker interference detected!
Wikia is a free-to-use site that makes money from advertising. We have a modified experience for viewers using ad blockers

Wikia is not accessible if you've made further modifications. Remove the custom ad blocker rule(s) and the page will load as expected.