Quacker
Talk

0
253pages on
this wiki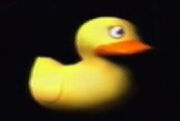 The Quacker is a grenade that looks like a rubber duck and is very powerful. To unlock the Quacker you must take back the Funland Tactical Location. The next time you return, the Quacker can be found at the Chuck's Ducks 2 stall. In order to keep them you must store them at an Agency Landing Zone.
Once thrown the Quacker will stick to whatever it lands on, the eyes of the grenade will emit a flashing red light, and produce the sound "quack", then it can be remotely detonated. It was not obtainable in the demo.
The Quacker was originally only available via the Chuck's Ducks 2 Facebook game, and would appear near the ferris wheel at the Chucks Ducks stall once a certain amount of points had been achieved on the Facebook game.
The Quacker was present in the original Crackdown, but it was only available as an Easter Egg and it was not an explosive. There were roughly 14 located around Pacific City and if picked up and thrown at enemies or civilians, it would cause a "one hit kill".
When thrown in the water the Quacker stops glowing and floats.
Even though they may seem to be the most powerful grenade, they are not. It takes two Quackers to kill an Agent, while other grenades, like the Shrapnel or Cluster grenades, can kill an Agent with only one explosion.