The Cell Roadster is the modified version of the Civilian Coupe from Crackdown, Its a fast car reaching speeds of nearly 180 mph. Its has a good turning angle but its handling isnt so great but this helps in preforming power slides. The car can suffer through jump punishment but not guns. It is a two person car. It can plow through freaks or cell. N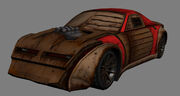 ot a good support car.
Ad blocker interference detected!
Wikia is a free-to-use site that makes money from advertising. We have a modified experience for viewers using ad blockers

Wikia is not accessible if you've made further modifications. Remove the custom ad blocker rule(s) and the page will load as expected.