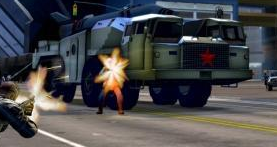 The Scud Launcher is a vehicle in Crackdown used by the Volk. It is completely based on MAZ-7310. The missile launcher on the vehicle cannot be used.
The name of the vehicle is a reference to the term often referred to MAZ-7310, which the vehicle is based on.
It makes a reappearance in Crackdown 2 which was known as Battle Bus. It has mounted turrets and is armored.
They are seen driving around Den.
It cannot be impounded in the Agency Tower.
Ad blocker interference detected!
Wikia is a free-to-use site that makes money from advertising. We have a modified experience for viewers using ad blockers

Wikia is not accessible if you've made further modifications. Remove the custom ad blocker rule(s) and the page will load as expected.