"Those Peacekeepers need assistance, agent!"
This article needs more information. Please expand this article.
SMG.png
SMG
Production information
Manufacturer

Unknown

Model

SMG

Technical specifications
Damage Per Hit

1/10

Magazine Size

30

Maximum Ammunition

480

Rate of Fire

8/10

Accuracy

High

Range

4/10

Usage

  [Source]
The SMG is a weapon in Crackdown 2. It is a starter weapon, alongside the Shotgun. It is mainly used for close quarters. It has low damage and effective range but a moderate fire rate. It has an upgraded version called Ultra SMG.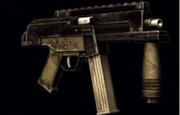 Due to the SMG's rate of fire a relatively low damage output it becomes ineffective at higher levels but makes a perfect sidearm when combined with either the Shotgun, Assault rifle or the Sniper rifle. The weapon can kill a Freak Rambler, the weakest of the Feaks, in almost one entire magazine and two or even three magazines for stronger enemies.
It should be noted that the Shotgun, the Assault rifle and the SMG all have an upgraded version which have higher damage outputs and ammo capacity.
Ad blocker interference detected!
Wikia is a free-to-use site that makes money from advertising. We have a modified experience for viewers using ad blockers

Wikia is not accessible if you've made further modifications. Remove the custom ad blocker rule(s) and the page will load as expected.