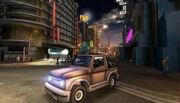 The civilian SUV looks to be based off of the 1986-88 Suzuki Samurai. The little SUV is a good all around vehicle due to the fact that it is good on and off road. It isn't the best on or off road but the fact that it can do both well is a very valuable quality in a Crackdown vehicle. It has a lower top speed and can handle quite a bit of damage for a vehicle of its size.
Ad blocker interference detected!
Wikia is a free-to-use site that makes money from advertising. We have a modified experience for viewers using ad blockers

Wikia is not accessible if you've made further modifications. Remove the custom ad blocker rule(s) and the page will load as expected.