Scrounger
Talk

0
244pages on
this wiki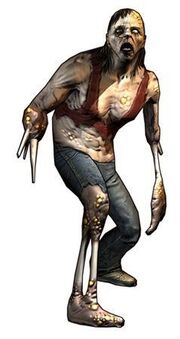 "Those Peacekeepers need assistance, agent!"
This article needs more information. Please expand this article.
Scroungers are a type of freak in Crackdown 2.
These Freaks represent the most recently mutated, and are also the weakest, if not the most common Freak. They appear to still be human, apart from sickly skin and cancerous growths, often fusing hands into crablike claws, or flesh twisting as musles and bones develop, giving the appearance of two legs or arms having fused into one. There is difference in looks but this does not change they're health or strength at all. They also have possibility of different clothing colors like civilian vehicles and cell's as well.
Killing Scroungers is rather simple, as two to four rounds from the basic SMG will kill on the lowest difficulty, with up to thirty being needed on the highest, if the rounds hit the torso. Due to their weak nature and swarming tatics, the strongest Agents simply need to jump up as high as they can, then use the ground slam ability.