"Those Peacekeepers need assistance, agent!"
This article needs more information. Please expand this article.
Ultra SMG
Production information
Manufacturer

Unknown

Model

SMG

Technical specifications
Damage Per Hit

3/10

Magazine Size

30

Maximum Ammunition

480

Rate of Fire

10/10

Accuracy

High

Range

5/10

Usage

  [Source]
The Ultra SMG is an Agency weapon that is unlocked at level 3 Firearms. It fires extremely fast and does medium damage. It is heavily based on the real-life MP5k submachine gun.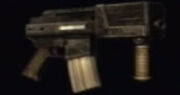 Ad blocker interference detected!
Wikia is a free-to-use site that makes money from advertising. We have a modified experience for viewers using ad blockers

Wikia is not accessible if you've made further modifications. Remove the custom ad blocker rule(s) and the page will load as expected.